Miami is known for its incredible holiday lights. After all, the cities dress up for the holiday season with all kinds of outdoor color lighting. There's always a myriad of festive designs and colors, making city drive-through experiences exciting throughout the holiday season.
But how about we give it a little bit of spin this year? After cruising around the city to see the picturesque holiday lights, why don't you bring the experience home? Lux Lighting has some of the best low-voltage color landscape lights from industry-leading
manufacturers. We can install any design your desire, instantly transforming your home from boring to stunning and desirable this holiday season.
Essentially, our unique outdoor color lighting will accentuate the architectural features of your home, turning it into an intimate venue for holiday gatherings and parties. With that said, we'll showcase the exciting possibilities of how outdoor color lighting can add a bold spunk to your South Florida home this holiday season.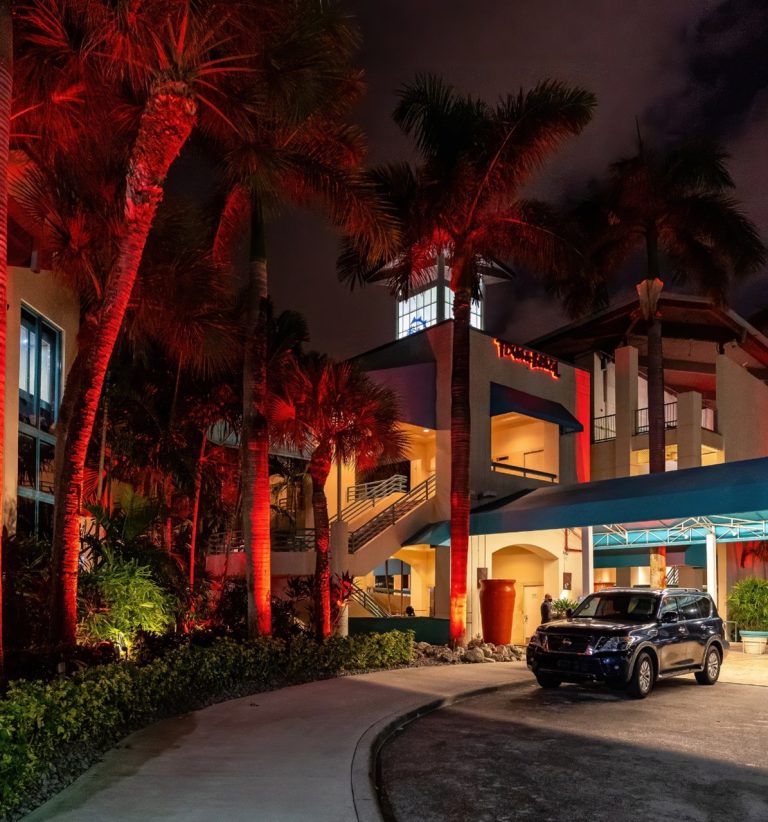 Why Choose LUX Outdoor Color Lighting for the
Holidays?
While decorating your home or commercial space for the holidays is fun, the entire process can be pretty cumbersome. Luckily, LUX Lighting got your back on this. We have improved lighting options for your residential and commercial outdoor lighting needs
that breathe life and color into your space.
1. The lights are ideal for all seasons
Our vast selection of outdoor lighting products is perfect for any holiday event. These lights have been pre-designed to suit all holidays, so you don't have to redecorate ahead of every holiday or event.
2. Energy saving
Gone are the days of traditional incandescent outdoor lights that used to run up electricity bills. Our outdoor color lighting consumes up to 87% less energy and has a life expectancy of at least 50,000 hours.
3. Multiple color options
Since you have a wide range of color options to choose from, these outdoor color lights are suitable for any holidays or events. For instance, you can set the lights to orange on Halloween or white, blue and red on Independence Day.
4. Customizable patterns
Besides the multiple color options, you also get customizable lighting patterns. You can set the twinkling and fading patterns of these outdoor color lighting.
5. Remote Access- App Control
Our lighting options come with a user friendly mobile app that allows you to control the entire outdoor lighting system remotely. Install the app on your phone or tablet and get ultimate access to your lighting system even when miles away from your home or business. You
can also schedule the lights to change colors on special occasions and holidays.
6. Sleek Installation
One thing about LUX Lighting is that we ensure the installation of outdoor holiday lights doesn't interfere with the building's appeal. We tuck in the lights so well that they blend with your home's architecture. These lights are hardly noticeable during the day.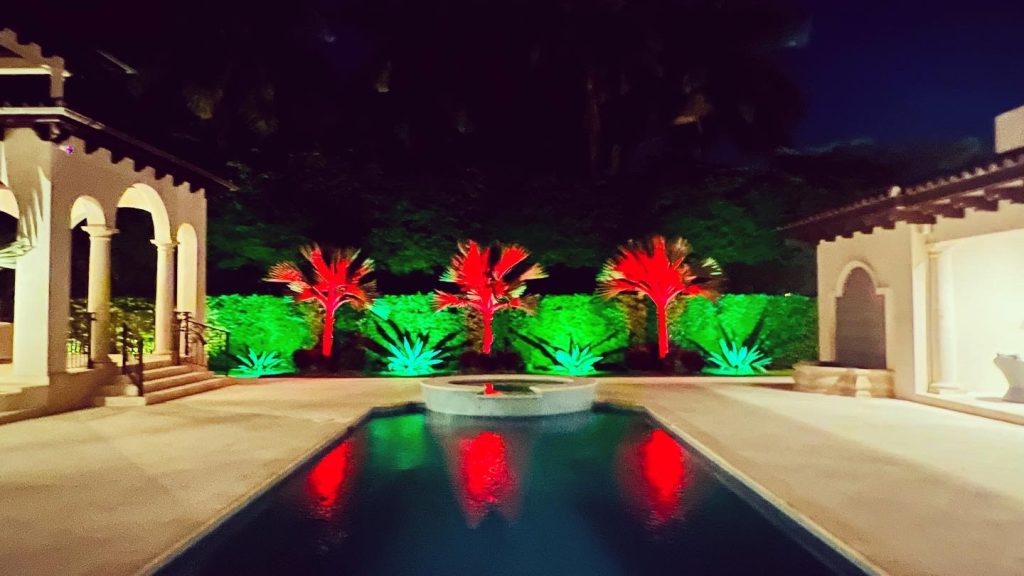 1. Highlighting Your Entire Home
As we make way for Santa this year, LUX Lighting can add outdoor color lighting to the overhang around your home's roof. We will create a classy arrangement of outdoor Luxor color lighting, elegantly frame them around the roof line, and extend them to the front door's frame. There's no better way to add that festive touch to your home!
2. Lighting up Your Front yard
When it comes to outdoor holiday lights, the aim is to provide warmth and a seasonal glow while remaining understated. And since you're working with professionals, you can rest assured we'll make your dreams come true. We will create a nice balance with the outdoor holiday lights by lighting up the bushes on either side of your home and
the central part of your front yard.
3. Lighting up the Pool Area
When it comes to decorating your residential area for the holiday season, not all outdoor color lighting displays have to face the street. If you have a back porch or a pool area, we can light it up with cast color lighting and create an additional cozy spot for you and your family to celebrate the holiday season.
4. Lighting up the Palm Trees
If you have some palm trees on your home's front lawn, LUX Lighting can help you create the impression of a tropical Christmas by placing outdoor color lighting at the bottom to illuminate their tall trunks.
5. Leading the Way
LUX Lighting can also lead the way to your home with FX luminaire. These lights look so lovely when placed in a line on either side of your front path or your home's entrance. We can even carry this décor theme indoors by adding small luminaries to the front windows to create a more seamless look.
6. Illuminating the Front Porch
There is always something special about that South Florida front porch especially when it's well decorated with haven color LED holiday lights. LUX Lighting can set up some lights on your front porch this holiday season to draw more attention to your front side of your home.
What Makes Our Outdoor Color Landscape Lighting Products
Stand Out?
·
LUX Lighting outdoor color lighting products have the highest-lumen color capability
·
You are guaranteed of durable finishing that can stand the harsh outdoor elements
·
LUX Lighting has a wide range of color options- radiant hues that will add a festive touch to your home any time of the year
·
Our products have zone-dimming color features to adjust the intensity of individual outdoor lighting fixtures Convenient wireless control of your lighting fixtures with Luxor Control Systems